Australia's biggest solar farm powers up to help replace New South Wales coal

Sophie Vorrath 16 March 2023 9




Image: Acen Australia


The first stage of what will be the biggest solar farm in Australia – at least for the time being – has been officially opened and will be operating at its full capacity of up to 400MW within months.

The New England solar farm will eventually be sized at 720MW, and will also have a neighbouring big battery, with up to 400MWh of storage, and is being developed in two stages by ACEN Australia east of Uralla on the lands of the Anaiwan and Gumbaynggirr people.

The 400MW Stage 1 solar farm, officially opened by federal energy minister Chris Bowen on Thursday, marks a major milestone for a project that matches the Western Downs solar farm in Queensland as the biggest grid-connected solar PV project in Australia.

It also marks a milestone for the Philippines-owned AC Enenergy Corp, which only last year gained a foothold in the Australian market through the gradual acquisition of the development pipeline of UPC\AC Renewables.

ACEN Australia CEO Anton Rohner says the company decided to build the New England solar farm on a fully merchant basis to ensure it was online in time to help replace closing coal fired power stations in NSW.

"We wanted to get things built, to decarbonise Australia," Rohner said.

"I truly believe that the work ACEN Australia is doing to accelerate Australia's transition to a renewable energy future is here and now – and it starts with New England Solar."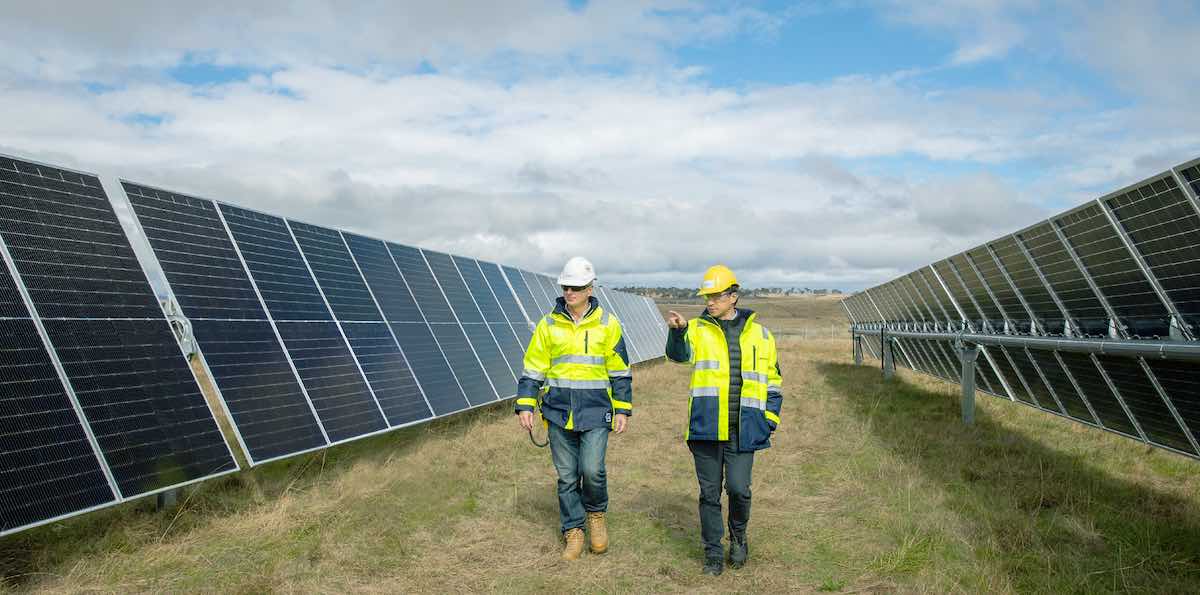 Image: Acen Australia

The mission to fast-track the company's 8GW Australian pipeline of solar, wind, battery and pumped hydro was boosted late last year by a debt raise of up to $600 million, into which the federal government's green bank tipped $75 million.

As RenewEconomy reported at the time, the Clean Energy Finance Corporation invested in the debt raising round alongside a $A140 million green loan agreement with Japan's MUFG and a $A100 million facility with DBS Bank.

The New England solar farm, whose first 400MW will see the installation of nearly 1 million PV panels, is first cab off the rank, having been cleared to send power to the grid by the Australian Energy Market Operator in December.

Acen Australia says the huge project has been generating renewable energy since that time, is expected to ramp up to around 100MW this week as it works through various "hold points".

Around 300MW of the solar has been installed, and the project is expected to be generating at full name plate capacity of 400 megawatts (AC) in the coming months. A financial commitment to the second stage is expected to be made later this year.

Speaking at the opening ceremony, Rohner said the project was being developed with the support of host landholders, First Nations people, and the Uralla community.

"They are at the heart of what we do, and I want to personally thank them for putting their trust in us," he said.

"It's been a team effort. Together with our contracting partner GLC we've navigated a global pandemic coupled with an extended La Niña leading to extremely challenging weather conditions for the construction team who have executed the project safely."

A community benefit fund set up through the solar farm, Uralla Grants, has so far delivered $200,000 to the region, Rohner said.

The listed energy platform of Philippines-based Ayala Group, ACEN has more than 8GW of renewable energy generation and storage capacity in the development pipeline in Australia, around 1GW of which is under construction.

This includes the 400MW Stubbo solar farm – and potentially a 200MWh big battery – in the NSW Central-West Orana Renewable Energy Zone.



Image: Acen Australia

ACEN CEO Eric Francia says the launch of the New England project establishes Australia as a "stronghold" for the company's renewables expansion in the region.

"The Australia team continues to harness the country's outstanding potential for clean energy to help ACEN reach its goal of 20GW of renewables capacity by 2030," he said.

The company also has a number of massive – and in some cases somewhat controversial – wind projects it is seeking to build in Tasmania.

This includes the up to 1.26GW project proposed for Tasmania's north-east, that in August was declared a Major Project by the state Liberal government, making it part of a streamlined development assessment process overseen by an independent panel.

The North East wind project would be built across two sites – Waterhouse in the west and Rushy Lagoon in the east. The traditional owners of the lands are the Leenerrerter, Pinterrairer, Pyemmairrenerpairrener and Trawlwoolway people.

In the north-west of the island state, ACEN Australia is also proposing the Jim's Plain and Robbins Island wind farms, which could have a combined capacity of up to 1GW if they go ahead.

The approval of the 900MW Robbins Island project is currently the subject of a number of appeals, including one from ACEN challenging the Environment Protection Authority ruling that its turbines must shut down for a total of five months of each year.

A further two appeals lodged with TCAT are challenging the wind farm's approval by the EPA; the first, from the Bob Brown Foundation (BBF) and another from the Circular Head Coastal Awareness Network (CHCAN).

reneweconomy.com.au