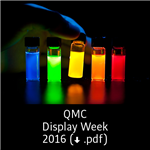 An SI Board Since January 2017
| Posts | SubjectMarks | Bans | Symbol |
| --- | --- | --- | --- |
| 3 | 1 | 0 | QTMM |
The Quantum Dot Era

Quantum Materials Corp. is assembling a suite of interrelated quantum dot technologies, each of which by themselves would be considered "Disruptive Technology". QMC's strategy is to use its strengths in quantum dot synthesis and mass production, along with proprietary quantum dot printing abilities to create new product paradigms in industrial and commercial applications. Those next-generation advanced quantum dot-based products include: solar cells, bio-medical assays, displays, LEDs, lasers/photonic devices, computer memory, storage devices and a myriad of potential applications; too numerous to mention them all. That makes quantum dots a true enabling technology for all fields of science. It's equivalent to having a diversified portfolio all in one stock!

As a Quantum Dot Manufacturer, our focus is producing the best performing and at the highest production rate using economies of scale. As such, Quantum Materials is "application agnostic". By automating and then scaling Quantum Dot production, we keep our focus on satisfying the customers demands while making better and better quantum dots.

Tetrapod Quantum Dot Solar Cells Solterra Renewable Technologies, Inc., the wholly-owned subsidiary of QMC is developing Next-Gen QD Solar Cells printing by roll-to-roll processes. The Solterra thin film quantum dot photovoltaic solar cell is differentiated from other solar cells in several important ways including a dramatically lower manufacturing cost per watt because no vacuum equipment is required, no expensive silicon is required and low-cost printing techniques are used on inexpensive substrates. Also, Solterra's solar cell has higher potential efficiency (~65%), because quantum dots are capable of producing multiple charge carriers when excited.

Quantum Materials Corp your Quantum Dot company.
| | |
| --- | --- |
| | Go to reply# or date (mm/dd/yy): |
| | |
| --- | --- |
| | Go to reply# or date (mm/dd/yy): |