Good morning. Happy Wednesday.

The Asian/Pacific markets leaned to the downside. Japan posted a gain; Hong Kong, Indonesia and Taiwan posted losses. Europe, Africa and the Middle East are mixed and somewhat quiet. Greece, Russia, Norway, Portugal and the Czech Republic are up; Denmark, Finland and Bulgaria are down. Futures in the States point towards a down open for the cash market.

—————
VIDEO: My Favorite Intermediate Term Trading Setup
—————

The dollar is down. Oil is up; copper is down. Gold and silver are up. Bonds are up.

Very quietly, while the market has posted big gains the last few days in route to the S&P closing at a new all-time high, oil has gotten above its 50-day MA. Crude has been a drag. If the group moves up, there won't be much to hold the market back.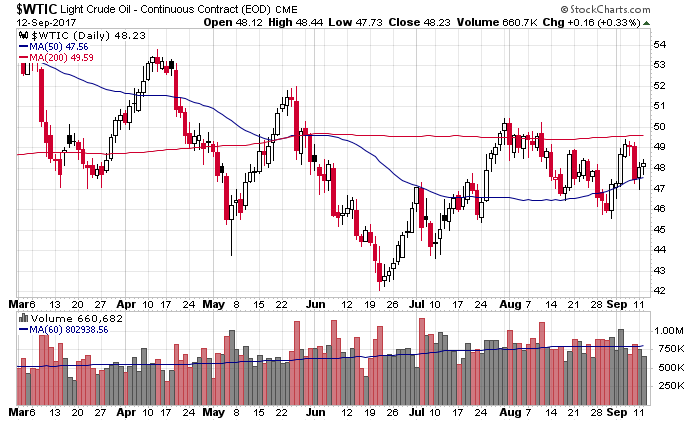 Stock headlines from barchart.com…

Apple (AAPL -0.40%) is down -0.5% in pre-market trading on a less than enthusiastic response to the company's unveiling of its new iPhone late Tuesday.

Rockwell Collins (COL +0.12%) was downgraded to 'Neutral' from 'Outperform' at Baird.

EOG Resources (EOG +0.61%) was upgraded to 'Overweight' from 'Equal Weight' at Morgan Stanley with a price target of $106.

US Foods Holding (USFD +2.03%) was upgraded to 'Overweight' from 'Equal Weight' at Barclays with a price target of $32.

DowDuPont (DWDP +2.50%) was upgraded to 'Outperform' from 'Market Perform' at Cowen with a price target of $80.

Nordstrom (JWN +0.74%) rallied 9% in after-hours trading on a report that private equity firm Leonard Green & Partners may help fund a buyout of Nordstrom,

Centene (CNC +0.38%) jumped nearly 7% in after-hours trading after it purchased Fidelis Care for $3.75 billion, a deal that will allow it to enter New York's health-insurance market.

Accra Therapeutics (AKCA +1.33%) rose 3% in after-hours trading after it filed a new drug submission to Health Canada for volanessorsen, an investigational medicine for the treatment of familial chylomicron syndrome.

Micron (MU +2.54%) was upgraded to 'Buy' from 'Neutral' at Goldman Sachs with a price target of $40.

A-Mark Precious Metals (AMRK +4.38%) tumbled over 10% in after-hours trading after it reported fiscal Q4 revenue fell -24% y/y to $1.33 billion amid "historically low sales levels at the U.S. mint."

Zagg Inc. (ZAGG +4.29%) gained over 1% in after-hours trading after it announced a universal mophie wireless charging base for the iPhone 8, iPhone 8 Plus and the iPhone X.

Inventure Foods (SNAK -1.18%) surged over 25% in after-hours trading after it sold its frozen foods operations for $50 million to Oregon Potato.

From Seeking Alpha, shares in Apple's (AAPL) suppliers slumped overnight after the new iPhone X disappointed with a later than expected shipping date, on Nov. 3. The $999 price tag could also dent demand for the device in some markets. Across Asia: Zhejiang Crystal-Optech -6.7%, Shenzhen Desay Battery Tech -4.4%, AMS -4.1%, Catcher -5%, Largan -3.8%, Goertek -3.6%, Wistron -3.4%, Shenzhen O-film Tech -3.4%, Pegatron -3.1%, LG Innotek -1.8%, Hon Hai -1.3%, Zhejiang Tony Electronic -1.1%, Han's Laser -1.1%, TSMC -0.5%.

Today's Economic Calendar
7:00 MBA Mortgage Applications
8:30 Producer Price Index
10:30 EIA Petroleum Inventories
1:00 PM Results of $12B, 30-Year Note Auction
2:00 PM Treasury Budget

Other…

today's upgrades/downgrades from briefing.com

this week's Earnings from Morningstar

this week's Economic Numbers/Reports powered by ECONODAY